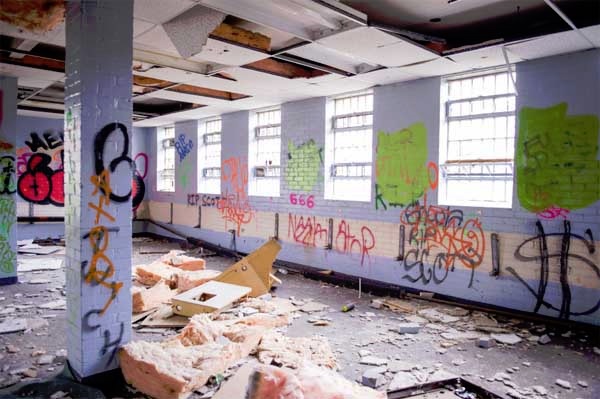 Squatters are a major concern for owners of vacant property, and it's important that the correct measures are taken to prevent trespassers from gaining access to your site. Here are some of the most frequently asked questions about the value of keeping squatters out of a building, and the best way to keep them out.
What is a squatter?

Squatters occupy a building or area of land which does not belong to them, without the consent of the owner. They must have trespassed to gain entry to the property, and do not pay any sort of fee or rent to reside there. This means that tenants or subtenants of a residential building are not considered squatters, as they have previously had the landlord's permission to stay.

What are squatters' rights?

In the UK, "squatters' rights" refer to the result of a law passed in 1977, which prevented landlords from using threat, force or violence as a means of eviction. After this law was passed, illegal inhabitants could claim squatters' rights to prevent forced entry or removal from the building.

Trespassing with the intention of occupying a residential property in England and Wales became a criminal offence in 2012. As such, illegal inhabitants of a residential building can no longer claim "squatter's rights" and the police may force entry to evict them. Squatters may be arrested, and prosecutions will result in a combination of fines up to £5,000 and up to 6 months imprisonment.

What rights do property owners have against squatters?

The legal procedure for reclaiming residential property is fairly straightforward, if the owner can demonstrate that the squatter does not have (and has never had) permission to reside in the building, and that entry was gained through trespassing.

Property owners can also take legal action against squatters in the event of:

• Breaking and entering
• Vandalism
• Theft
• Fly-tipping / dumping
• Noise or similar anti-social behaviour

If the presence of squatters causes a rightful occupant to become homeless, the property owner also has the right to enter the building and demand that the squatters leave. If they refuse, the police can enforce the law and evict the squatters. Police are also able to raid properties and remove squatters under section 17 of the Police and Criminal Evidence Act.

What is adverse possession?

A squatter can cite adverse possession to claim ownership of a property if they, or their predecessors, have cumulatively lived unchallenged in a property for 10 years or more. Once a squatter has filed for adverse possession, the legitimate property owner may lose the title to the property if they do not object within 65 days.

A squatter claiming adverse possession must prove that they have held continued occupation for 10 years in a building registered with the land registry, or 12 years in a building which is not. They must also demonstrate that they have been "acting owners" during this time, paying for utilities and keeping the structure in good repair. If they, or an earlier squatter, ever had permission to live in the property (for example, as a legitimate renter), then they will be unable to claim.

How do I prevent adverse possession?

Ensure that residential property titles are in your name by registering them with the land registry. At the same time, if the building is vacant then you must take steps to ensure that it is secure against trespassers, vandals or squatters. This may include installing temporary fencing, and blocking window access with Sitex security screens.

Tips for making a vacant property unappealing to squatters:

• Use a timer to make indoor lights switch on and off at appropriate times
• Offer car park spaces to a neighbour or nearby business to use in your absence
• Arrange for post / rubbish collection and landscaping to be carried out in your absence
• Keep loose outdoor items like ladders, ornaments and bins secured out of sight to prevent them being used to conduct a break-in
• Install security lights overlooking all access points

If you intend for the building to be vacant for an extended period of time:


• Shut off all utilities
• Install professional surveillance
• Protect all windows and doors with security screens and security doors
• Consider registering for a scheme that provides live-in guards

Are there any differences for non-residential properties?

The 2012 legislation only applies to residential buildings; if you own a structure that was never intended to be lived in, illegal occupants can still claim squatters' rights. This makes it even more important to keep public buildings, warehouses, commercial units and outbuildings secure when not in frequent use.

How can I remove squatters legally?

In a residential building, you have several options:

• If the squatters leave the premises unattended then you have a right to peaceful re-entry (breaking windows or locks will be considered threatening; you must not force entry). This is rarely possible, as squatters are aware of this right and will generally refrain from leaving the property empty, to oppose entry and claim that force has illegally been used against them.

• Within 28 days of discovering squatters you can apply for an Interim Possession Order (IPO). Property owners will need to meet certain conditions, but this process will force the squatters to leave the property and stay away for 12 months. You must return to the court to gain full approval before taking final possession once the squatters have left.

• It's also possible to obtain a Summary Possession Order (SPO). If squatters fail to appear at the IPO court hearing and the IPO is upheld, an SPO may be granted. Alternatively, an SPO can be used if the application does not meet the terms of an IPO (such as being aware of the squatters for more than 28 days), however this process is longer and more expensive.

• Police action. If you have proof that criminal damage or theft has taken place then police action may be taken. It may also be used if the squatting displaces a rightful occupier from their primary residence (DRO), or if the squatters are breaching an IPO.

In a commercial building, you will need to take civil action against the squatters to regain possession, unless you can prove that they have caused criminal damage on the site. The civil proceedings may involve an IPO or SPO, which are effective but may take time to obtain.

How can I keep squatters from returning to my property?

• Change your locks as soon as possible
• Install security screens and security doors on any access points, and fences around the perimeter
• Take photographs of all security measures so that you can provide evidence of damage in the event of forced re-entry (or attempted re-entry)
• Consider extra security measures, such as a patrolling guard for larger sites
When dealing with squatters, it's vital that proper legal procedure is followed, and that no laws are inadvertently broken in the attempt to regain possession of your property. If illegal occupants are living in your premises, call Protect Vacant Property now on 0800 043 2742 for our professional Squatter Eviction Service, or contact us for more information.