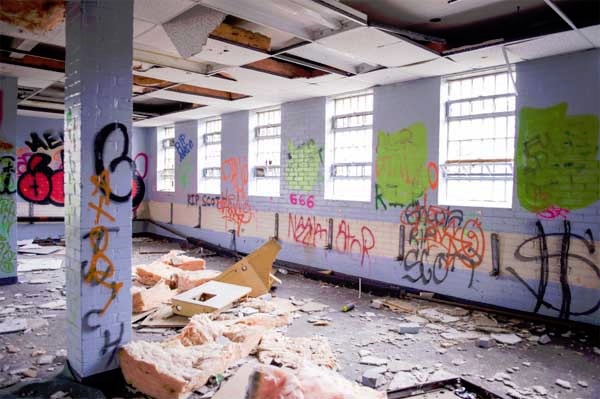 Vacant industrial and commercial premises present an attractive opportunity for travellers and squatters to invade your site. If you find that someone does gain unauthorised access to your land or building, it's reasonable to be concerned about damage, burglary and vandalism.
While this is potentially very intimidating and frustrating, property owners don't need to deal with the hassle of evicting travellers themselves. Protect Vacant Property offers a comprehensive and swift traveller removal service to have intruders evicted safely from the property. Contact us today on 0800 043 2742 for more information.
Traveller Eviction
Calling in experts to deal with a traveller invasion ensures that you can feel secure when accessing your property. At Protect Vacant Property, we have many years of experience in evicting travellers and use a range of proven techniques to re-secure a previously occupied site.
By working with us, you won't need to go through the courts, as our services include Certified Enforcement Agents and bailiffs who can both serve notice and evict. We can keep your property safe and unoccupied 24 hours a day, 7 days a week, getting rid of travellers and then protecting against future intrusions.
Full Range of Security Services
Traveller eviction is only a part of our comprehensive range of site security services. Once intruders have been quickly and effectively removed, our team can deploy a variety of techniques to make sure that your property stays secure, including protective Sitex screens, temporary fencing, security dogs, metal window shutters and concrete barriers.
We have found that these measures not only physically prevent trespassers from accessing your site, but act as a deterrent, demonstrating to potential intruders that your property is well protected against invasion. We also offer a full clean-up service once travellers have been evicted, including needle and sharps removal.
Nationwide Service
Protect Vacant Property operates nationwide, providing protection and security for property anywhere in the country. If you need assistance with a traveller eviction or would just like to get some more information, call us on Freephone 0800 043 2742 and talk through your needs with a member of staff. Alternatively, you can visit our contact page to send us a message. A member of our team will get back to you as soon as possible.
---
Eviction of Travellers – FAQs
Who is defined as a trespasser?
The legal definition of 'trespass' is knowingly entering or occupying someone else's land or property without permission. A trespasser, therefore, is anyone accessing your land or property without having your consent to do so. This includes trespass committed by New Age travellers, Roma Gypsies, Irish travellers, squatters or any other group of unauthorised occupants.
If you have an unauthorised encampment on your site or need help with squatter eviction, Protect Vacant Property offer fast and efficient trespasser removal services to help you regain lawful possession of your land.
How do you remove travellers?
There are several powers our team can use to evict travellers from your property:
Common Law
As the landlord, you can use your Common Law powers to perform a traveller eviction.
You don't need to obtain a Court Order.
Reasonable notice must be given to the illegal occupants, with 24 hours typically considered to be sufficient.
Enforcement to clear the site is performed by Certificated Enforcement Agents.
If the travellers return, there is no penalty.
Part 55 Civil Procedures
The landlord can use Part 55 Civil Procedures to remove travellers from the site.
Court procedures will need to be followed, which typically means appointing a solicitor, and paying legal costs.
Going to Court will take longer than using Common Law powers.
Enforcement to evict the travellers is performed by a County Court Bailiff or a High Court Enforcement Officer.
If the travellers return, there is no penalty.
Sections 77-78 Criminal Justice and Public Order Act 1994
The local authority can use Sections 77-78 criminal procedures to remove unauthorised encampments.
Powers can be used on any land that falls within the local authority's area, regardless of who owns the property.
Sections 77-78 are used to evict identified individuals from the land.
Court procedures will only become necessary if the trespassers refuse to leave the site when asked to do so.
Enforcement of traveller eviction is performed by Certificated Enforcement Agents.
If the travellers return within 3 months, criminal sanctions will apply.
Sections 61-62 Criminal Justice and Public Order Act 1994
These are the criminal powers used by the Police to evict travellers.
Sections 61-62 can be used on any land except highways.
Powers are used to remove identified individuals and/or their vehicles from site.
There must be a minimum of 2 persons trespassing.
No Court Order is necessary.
What is the process for traveller eviction?
Protect Vacant Property offer a nationwide traveller removal service to help you regain possession of your illegally occupied land. Once you have instructed our traveller eviction team, we act swiftly and decisively on your behalf::
The case will be allocated to your nearest Protect Vacant Property Bailiff or Enforcement Agent.
Within 24 hours, we prepare a Traveller Eviction Notice which the Enforcement Agent will serve on the trespassers.
While serving the Notice, the Enforcement Agent will make an assessment of the nature and size of the encampment and determine the number of personnel needed to carry out a safe and lawful eviction.
If necessary, we can arrange for video units, dog teams, security units, tow trucks and other equipment to be made available for assistance.
The local Police will be informed of the planned eviction scheduled for the following day.
On the day of the eviction, our professional eviction team will go in to remove the travellers and clear the site.
Following the eviction, and if instructed by the landowner, Protect Vacant Property can put in place counter measures to eliminate any chances of the travellers returning. We highly recommend this option.
If you would like more information about Protect Vacant Property's traveller eviction services in general, or you wish to instruct us with a specific case, please call Freephone 0800 043 2742 or send us a message via our Contact Us page. We will be in touch as quickly as possible