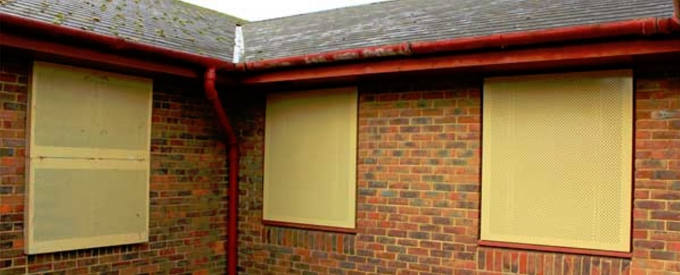 Protect Vacant Properties is proud to offer both Sitex Security Screens and Perma screens. These are the perfect solution to keep your property safe and secure from intruders and trespassers by blocking the entry points like the windows and doors. With many years of experience in providing security to vacant properties around the UK, we can offer expert advice and guidance. Get in contact by calling us on 0800 043 2742.
Sitex Security Screens
If you require high quality security at a vacant property, Sitex screens are far more valuable than simple wooden boards. The screens are almost impossible to break or remove unless you have specialist equipment.
Remember that the majority of individuals who are attempting to break in to a vacant property are simply opportunists. Faced with a challenge like Sitex Security Screens they will move on and leave your property alone. Preventing attacks and intrusions means that you don't have to later deal with other issues like evictions or clean-up operations.
A Variety of Uses
Sitex screens protect your vulnerable windows, which are common entry points for people trying to gain access to properties without permission. The screens are more than just a shield, they also stop prying eyes from viewing inside and prevent vandalism to your property.
The screens are also fire resistant – unlike traditional wooden boards they help to keep your property safe from arson attacks. They ensure you have complete peace of mind that your property is protected as well as it can be.
Nationwide Service
We provide security services nationwide, so if you are considering have Sitex Security Screens installed at your vacant property or you would just like more information on their uses, you can get in contact with us today. Give our team a call on 0800 043 2742 – you'll get through to an experienced professional who will have the answers to all of your questions. You can also use our contact page to send us a message and we will get back to you as soon as we can.