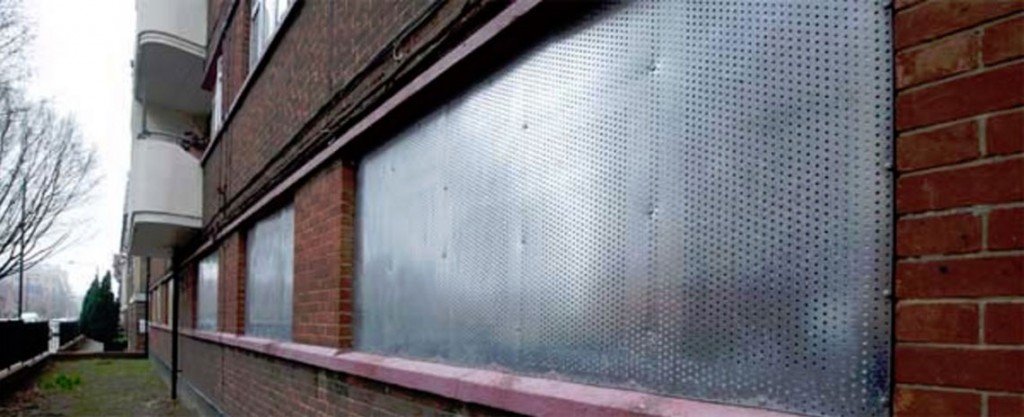 Vacant properties and industrial units can unfortunately find themselves the target for misuse by trespassers, squatters and vandals. If you have had problems at a vacant building, Protect Vacant Property can help. Windows are one of the easiest entry points as they can be easily broken to gain access to the building. We offer a window boarding service to remove the vulnerability of the windows and ensure nobody gets in to your building.
To talk to us about getting your windows boarded up or simply to get more information you can call us today on 0800 043 2742. A friendly member of staff will be happy to talk you through the available options.
Boarding Up Service
We are experts in all forms of vacant property security with many years of experience in protecting sites from intruders. We visit your property and board up the windows using heavy duty, durable materials to keep your building safe. This allows you to enjoy the peace of mind that your property cannot be easily accessed.
Our range of services do not stop at boarding windows either. Whether you have specific requirements or need additional security measures put in place, our team of experts are always happy to discuss the various security options available to you.
Prevent Break-ins
Boarding up windows might seem an extreme measure, but it can be the case that you have no option in order to stop intruders. Squatters and trespassers breaking windows not only leaves you with the challenge of evicting them, but it also means you have to spend a significant amount of money fixing the windows. It's a much better idea to take preventative steps to reduce the possibility that they can gain access in the first place.
Whether you are worried about burglars or simply need to prevent access to the building, boarding the windows is an excellent measure to take. Remember that people looking to break in to vacant properties are likely to be opportunists rather than someone with a plan – if they see that your building is protected they will move on. Often it takes something as simple as boarded windows to show that it won't be easy for them to get in.
Nationwide Service
We offer our services to companies and individuals nationwide so don't hesitate to get in contact with us today. You can call us on 0800 043 2742 or alternatively visit our contact page and send us a message.